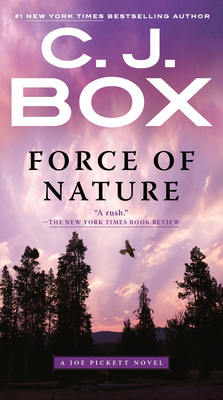 Force of Nature (A Joe Pickett Novel #12)
Publication Date:
March 5th, 2013
Publisher:
G.P. Putnam's Sons
Usually Ships in 1 to 5 Days
Description
Don't miss the JOE PICKETT series—now streaming on Paramount+
Joe Pickett's friend's past comes back to haunt everyone he cares about in this "violent, bloody, and quite satisfying thriller"* from #1 New York Times bestselling author C. J. Box.
In 1995, Nate Romanowski was in a Special Forces unit abroad when his commander, John Nemecek, did something terrible. Now the high-ranking government official and cold-blooded sociopath is determined to eliminate anyone who knows about it—like Nate, who's hidden himself away in Wyoming's Bighorn Mountains. And he knows exactly how Nemecek will do it—by targeting Nate's friends to draw him out. That includes his friend, game warden Joe Pickett, and Pickett's entire family. The only way to fight back is outside the law. Nate knows he can do it, but he isn't sure about his straight-arrow friend. And all their lives could depend on it.
ONE OF LIBRARY JOURNAL'S BEST MYSTERIES OF THE YEAR
Praise for Force of Nature (A Joe Pickett Novel #12)
Praise for Force of Nature
"A rush...an excellent wilderness adventure."—*The New York Times Book Review
"Proceeds at warp speed."—The Denver Post
"Moves like greased lightning."—Kirkus Reviews
"Perhaps the best in the series."—San Jose Mercury News
"Violent...Those who love Box's stunning set pieces will be in heaven."—Booklist (starred review)
"Absolutely riveting...This is the best Box I've ever read, and I've read them all."—Library Journal (starred review)
More Praise for the C. J. Box and the Joe Pickett novels
 
"One of today's solid-gold, A-list, must-read writers."—Lee Child
 
"Picking up a new C. J. Box thriller is like spending quality time with family you love and have missed...It's a rare thriller series that has characters grow and change. An exciting reading experience for both loyal fans as well as newcomers."—Associated Press
 
"Box is a master."—The Denver Post
"Box knows what readers expect and delivers it with a flourish."—Cleveland Plain Dealer
 
"Wyoming game warden Joe Pickett strides in big boots over the ruggedly gorgeous landscape of C.J. Box's outdoor mysteries."—The New York Times Book Review
 
"Riveting...[A] skillfully crafted page-turner."—People
 
"Will keep you on the edge of your seat."—The Philadelphia Enquirer