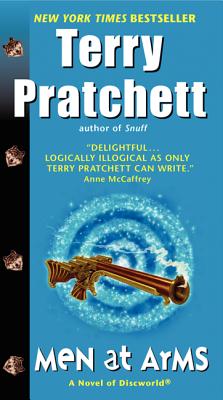 Men at Arms: A Novel of Discworld
Publication Date:
October 29th, 2013
Usually Ships in 1 to 5 Days
Description
"Unadulterated fun." —San Francisco Chronicle
"Pratchett has now moved beyond the limits of humorous fantasy, and should be recognized as one of the more significant contemporary English-language satirists." —Publishers Weekly
The fifteenth novel in the Discworld series from acclaimed New York Times bestselling author Sir Terry Pratchett
Corporal Carrot has been promoted! He's now in charge of the new recruits guarding Ankh-Morpork, Discworld's greatest city, from Barbarian Tribes, Miscellaneous Marauders, unlicensed Thieves, and such. It's a big job, particularly for an adopted dwarf. But an even bigger job awaits. An ancient document has just revealed that Ankh-Morpork, ruled for decades by Disorganized crime, has a secret sovereign! And his name is Carrot . . .
And so begins the most awesome epic encounter of all time, or at least all afternoon, in which the fate of a city—indeed of the universe itself!—depends on a young man's courage, an ancient sword's magic, and a three-legged poodle's bladder.
The Discworld novels can be read in any order but Men At Arms is the second book in the City Watch series.